Neck pain is one of the most common reasons people seek chiropractic care. Your neck works hard to be able to support your head, which weighs around 12 pounds! The neck, or cervical spine, is flexible and can move in many different directions, which makes it possible for you to see your surroundings. Unfortunately, this mobility can also make the neck more susceptible to injury. Whether it be a motor vehicle accident, sports injury, or poor posture, neck pain is a common side effect.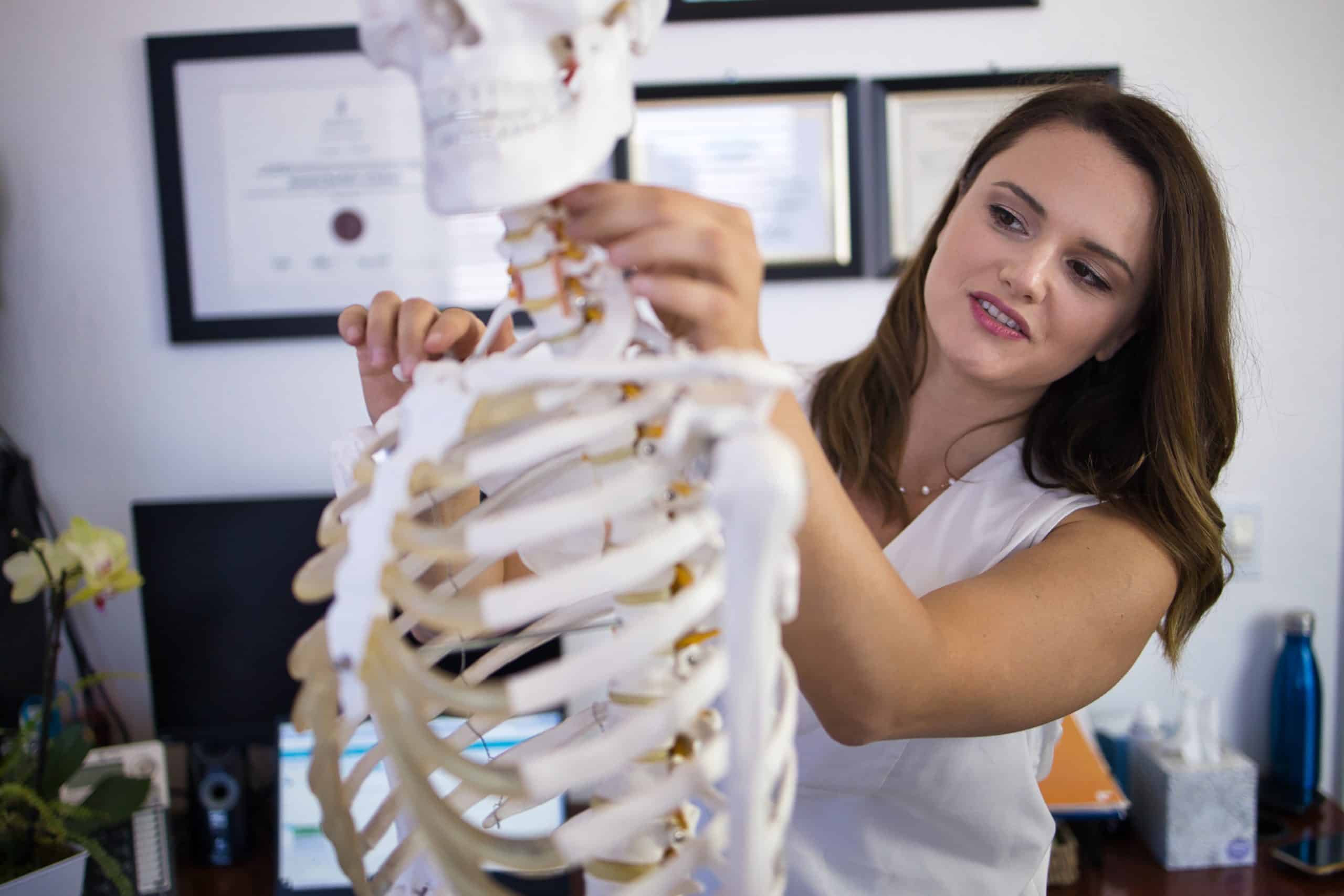 Conditions we treat
At Custom Chiropractor, we treat a variety of neck pain conditions with varying causes. Some of these conditions include: 
Cervical sprain or strain 

Injury to the neck that occurs when the neck muscles and ligaments are stretched too far, too quickly, which can result in tears and muscle weakness 

Cervical radiculopathy 

Neck pain, if left untreated, can lead to pain, numbness, or tingling in other areas known as cervical radiculopathy. With cervical radiculopathy, symptoms may be experienced in the face, shoulder, arm, wrist and hand accompanied with stiffness and loss of mobility.

Cervicogenic headaches 

Headaches that stem from the neck are called cervicogenic headaches. The joints of the cervical spine become restricted and prevent movement. They can be a side effect of neck pain that was left untreated.

Degenerative Joint Disease 

DJD can be caused by the aging process, injury, or genetics. Degeneration of the cervical joints may lead to neck pain. 

Cervical Disc Herniations

Disc herniations in the cervical spine cause movement of breakage of the disc and may lead to radiculopathy in the upper extremity. Herniations of the cervical spine that do not require surgery can be treated and managed by chiropractors.
TECHNOLOGY CAN BE A SOURCE OF PAIN
Recently, we have seen an increased amount of patients presenting with text, or tech, neck. Text neck is caused by improper posture while looking at your phone or working on the computer for long periods of time. This commonly affects musculature of the neck, upper thoracic spine and shoulders. 
By having your neck in a forward position while on the computer or texting, you increase the load your head creates on your neck. According to research, "every 2.5 cm the head moves forward, it gains 0.45 kg in weight" this can have serious implications on bodily function as vital lung capacity can be reduced up to 30%. With the increase in remote work positions, we have to adapt our bodies to technology. Some tips to avoid text neck is to maintain proper posture, take breaks often, use a standing desk, and change your position often, ideally every hour. Proper posture should include limiting forward head tilting, keeping phone and monitors at eye level, and avoiding rolling your shoulders forward.
How can we help? 
Chiropractic adjustments have been proven to be an effective way of treating neck pain. For neck adjustments, chiropractors use a gentle, targeted approach to reduce the joint restrictions located in your neck. By doing so, this can improve mobility of the cervical spine while increasing function and decreasing pain and inflammation.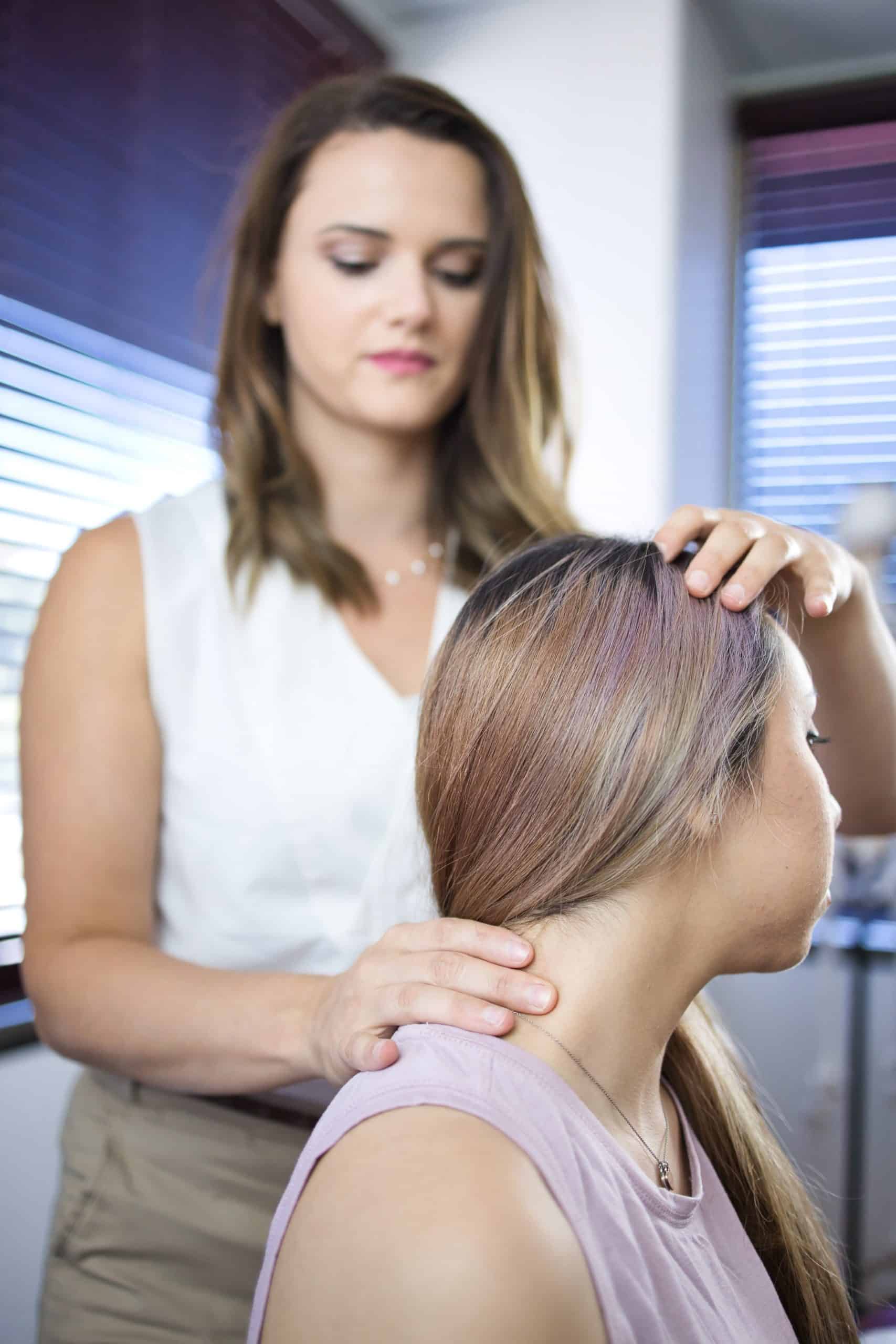 Techniques we use
Chiropractic adjustments – using their hands, a chiropractor can adjust the neck manually in a gentle manner to reduce restrictions located in the neck. 

Instrument-assisted adjustments (

Activator

) – an Activator can be used in place of manual adjustments to reduce restrictions. The Activator might be used due to patient preference or if a chiropractor believes this would benefit the patient. 

Instrument-assisted soft tissue therapy (

Graston technique

) – Graston technique entails a metal tool with an emollient used along the neck musculature to reduce any adhesions in the area. 

Active Release Technique

/Muscle Release Technique – A chiropractor will release musculature in the neck using their hands while having the patient activate a muscle group through its range of motion. This is to reduce tension and pain in the neck and gain mobility. 

Trigger point therapy – Chiropractors use their hands to perform trigger point massage to reduce any muscle knots or spasms located in that area.