Knee pain treatment depends on the location of the pain, as this varies based on which structure of the knee is involved. Conditions can have various etiologies which changes the structures involved.
Structures involved in knee pain:
Osseous – impacting the bones such as such femur, tibia, fibula or patella

Ligamentous – impacting the supporting ligaments, meniscus or cartilage of the knee

Muscular – impacting the surrounding musculature 

Neurological – impacting the nerves innervating the knee joint 
The right diagnosis is key to effective knee pain treatment
Our practitioners go through an initial consultation and examination consisting of a comprehensive medical background, underlying etiology of condition, and conduct a rigorous clinical and biomechanical analysis to make an accurate diagnosis. Without seeing the bigger picture in detail, there cannot be an accurate diagnosis, which ensures procedures for knee pain treatment will be efficient.  
3 steps in providing adequate knee pain treatments:
Reduce joint inflammation and pain using Kinesio Tape, and doing soft tissue work.
Optimize joint function by advanced extremity chiropractic manipulation, manual muscle release and deep tissue massage to impacted areas of the knee and adjacent joints to enhance flexibility, boost function and relieve pain.
Recover and rehabilitate

lost functions, strength and stability through exercises to get back to normal and prevent future injuries.
What causes knee pain?
Knee pain is an extremely common disorder, and it can affect daily activities. There are various causes of knee pain, which include overuse, injury, aging and medical conditions such as arthritis or bursitis. 
Knee Arthritis
The condition in which the natural cushion between the joints and the cartilage decreases is called Osteoarthritis. When this happens, the bone in each joint rub against each other more closely with fewer shock-absorbing qualities than the cartilage usually has. The rubbing results in pain, swelling, rigidity, reduced movement ability, and bone spur formation. Osteoarthritis most commonly impacts weight bearing joints, such as the knee and hip. 
Knee Bursitis
This is a very common condition for people who have to remain continuously on their knees like roofers, runners, plumbers, etc. Bursae become swollen or inflamed, leading to bursitis, as they are subjected to constant friction over a boney area. Bursa are the small, filled, fluid sacs that coat outside the knee joint. A sudden knee blow will potentially seriously damage the bursae.
How our practitioners can help with knee pain treatments?
Most knee problems can be treated without operation, with the exception of a few which require surgery or even complete replacement.  You can trust us with a variety of knee injury issues, whether it's a car accident or chronic pain after overuse.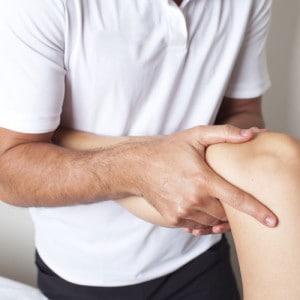 A practitioner will examine all the anatomical components of the knee joint in detail before providing any knee pain treatments. In addition to the knee joint, the lower back, pelvis, spine, ankle, and foot need to be examined because of their close relationship to the knee, and vice versa. In order to relieve knee pain, chiropractors may target other areas to optimize long-term recovery. 
The knee joint is a complex structure made of multiple parts that rely on each other to bear heavy weights and provide stability for the whole body. Knee pain treatments offered in our clinic are based on decreasing inflammation and building stability by strengthening the muscles around the knee. Working with a chiropractor will lower the risk of further escalations of an injury and may help avoid future ones.  
---
" A few months ago, I started seeing Sarah for persistent knee pain after running and general posture issues. Prior to coming to SCCC, I've done physical therapy and personal training as well, but nothing was as effective as sessions with Sarah. What I thought was knee pain was really issues with my quadriceps. Sarah effectively reliefs the pain and has strengthened the muscle. She's very good at teaching me the stretches to fix the problems on my own as well (even though I skip doing them sometimes). In general, I find getting working on here an extremely comfortable and relaxing experience. I appreciate how everyone gets to know you, your habits and goals, and checks in to make sure you're making progress. Honestly, I feel better leaving here than I do after paying 2/3x for a massage elsewhere. "
Matt H.
---
Contact us or schedule an appointment online to see one of our practitioners.