We are honored to have National Physique Committee (NPC) bikini and figure competitors that have worked with us at SCCC! Dr. Sarah is one of our chiropractors and Gabby was one of our medical receptionists! They just completed their first show recently and agreed to partake in an interview with us.
We saw you both just competed in San Francisco Championships. Can you tell us how you both placed?
Dr. Sarah: Yes, I placed first in the figure competitors Novice division C and second in the Open figure competitors division.
Gabby: Yes! This was my first competition and I placed 1st in two categories (true novice bikini & novice bikini) and 3rd in one category (open bikini).
Congrats to you both! What made you want to take part in this competition?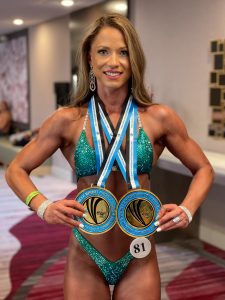 Dr. Sarah: Thank you! I really wanted to see how far I can push my mental and physical strength. My husband has been competing in the men's physique division for many years, it was a great experience in that regard as well.
Gabby: My mom actually competed as a figure competitor, so I was introduced to the bodybuilding world at a young age! I was always so inspired by her and wanted to compete, but never thought I could do it myself. Years later now, I'm in chiropractic school and wanted something to focus on and put energy toward outside of school. I'm a really goal-driven, competitive person and since fitness has always been my passion, I decided that maybe it was time that I give competing a try!
How did you choose to be bikini and figure competitors? Why did you choose that category?
Dr. Sarah: I chose the figure competitors division because I feel that this division highlights my character a lot more compared to the other divisions. Most people who compete as figure competitors have an athletic body and are more on the muscular side. The judges look for developed shoulders, lats, back and legs.
Gabby: I competed in bikini. I originally thought I might compete in the figure competitors division like my mom, but after I decided to compete my coach & I looked at my physique and decided that for where I was at (~13 weeks out), bikini was the best fit for me. The bikini standards are focus on rounded deltoids & glutes, a toned waist, and an overall "X" shaped figure.
How early did you both start prepping for the competition?
Dr. Sarah: Usually prep is 12 weeks long but that is just the cutting down phase. I started my bulk in mid May and was able to put on 15lbs, a mixture of muscle and fat. At the end of July I started cutting down for 12 weeks until the show.
Gabby: I started prepping at 12.5 weeks out! I definitely don't want to give the wrong idea though – I didn't get to this place in 12.5 weeks! I've been lifting for 11 years. I'm a personal trainer, boxer, and overall fitness enthusiast – so I started off in a strong place to continue to build muscle and lean out in a shorter amount of time.
What does prepping consist of?
Dr. Sarah: 12 weeks of prep is basically staying consistent with the lifts throughout, always trying to lift as heavy as you can with each exercise to minimize muscle loss. Increasing cardio as the weeks progress. Calories were reduced every few weeks. A few high carb meals to ensure that the metabolism does not slow down.
Practicing the posing routine throughout prep is super important to show all of your hard work on show day.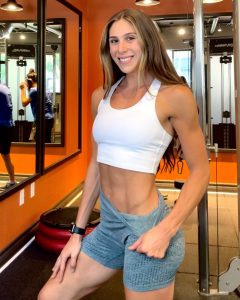 The week before the competition is called peak week. Peak week is a fun week- it is a science between how much water, salt and carbs you can have to make sure you don't look flat or bloated on stage. I would recommend hiring an experienced coach to help you with prep.
Gabby: Prep goes beyond what people see on the surface! Prep consists of everything from workouts to nutrition, supplementation, posing, suit design, and overall show day glam (hair, makeup, nails, tan). Judges don't just look for muscles, they look for how you present the whole "package" – posing, suit selection, and glam play a huge part in that! You can have an incredible physique, but you have to know how to best present it on stage.
What is your usual workout schedule? What is your favorite muscle group to exercise?
Dr. Sarah: I lift 4-5 times per week and divide the lifts into muscle groups. My workouts are divided like this: shoulders & legs, back & biceps, chest & triceps, legs & core, back, shoulders & core. It changes from improvement season to preparing for a show. Now I have 2 leg and core days plus one push and pull day.
My favorite muscle group changes all the time- Right now, I really enjoy shoulder and back workouts.
Gabby: I love lifting – and don't love cardio – so I worked with my coach, Juliano, to incorporate more lifting and less cardio. During prep, I lifted 6 days / week for about an hour with 4 days of cardio for 30mins and one full rest day. My muscle group "splits" varied throughout based on what my body needed most and what we needed to focus on to sculpt that "ideal" bikini physique. We did a lot of leg / glute activation! Thankfully, I love working glutes and legs, but shoulders actually become my favorite muscle group to train during prep. I never loved shoulder day, but seeing my deltoids develop and become one of my favorite muscle groups was really cool!
How do you manage work/school, meal prepping, and workouts for competing?
Dr. Sarah: Prepping for a show is almost another full time job- the last 6 weeks before the show cardio increases from 45 minutes twice per day to 2 sessions of an hour plus the usual lifting weights 5 times per week. It is a big sacrifice socially but also worth it. I always prepare meals on weekends and half way through the week to have everything ready in the fridge. Once that is done, there is no more time wasted thinking about what I should be eating. Taking it day by day really helped me to not get overwhelmed.
Gabby: Everything is about intention and commitment! I really do believe you can make time for anything that's important to you. I did things like squeeze in a workout during a lunch break, wake up early to get my cardio in, and practice posing at night during study breaks. Meal prepping on weekends also made it really easy to just grab and go lunches and dinners, so if anything, it saved me time cooking day to day! It was a challenge to balance everything – especially around exam times – but I always prioritized school and made time for my workouts and posing.
When do you start dieting? What is your diet like?
Dr. Sarah: Throughout the year I eat healthy. During off season my diet is higher on carbs but protein is still high. In season, my carbs are lower with some zero carb days, and the protein is a little higher to reduce loss of muscle. For protein I mostly eat turkey, chicken or tilapia. My carb source is usually oats, rice or sweet potatoes. The cutting phase starts at 12 weeks out. Your coach adjusts your diet, cardio and workouts week by week depending on how the body responds to the changes.
Gabby: I like to call it nutrition rather than dieting! It really is a lifestyle change versus a diet to "lose weight." I changed up my nutrition at 12 weeks out. For me to lean out, we focused on carb cycling between low and high carb days with one treat meal per week to keep my hormones balanced. On a day to day basis, I ate a high protein diet (chicken, shrimp, salmon) with fibrous veggies (broccoli, zucchini), healthy fats (avocado, almond butter), and complex carbs (sweet potato, quinoa, oats, fruit, whole wheat toast). I ate 5 meals a day and honestly was never really hungry! While it was restrictive, I felt nourished and energized.
What did you eat immediately after the show?
Dr. Sarah: I ordered these cookie brownies online- an Oreo blondie- my husband and I shared it. It was soooo delicious. I also had an electrolyte drink and a lot of water to hydrate.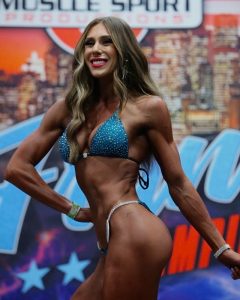 Gabby: I have a huge sweet tooth, so my first food after the show was a chocolate chip cookie cake that my friends had delivered! I also went out to dinner to celebrate and had some mac n cheese, a fried chicken sandwich, and French fries – some of my (not so healthy) favorites.
What's next for both of you? Are you preparing for another competition or taking a break?
Dr. Sarah: I am eager to compete again but I will be taking some time off first. Time off means- lifting 4 times per week with 5 days of 30 minutes of cardio plus a surplus of food to be able to put on more muscle mass. My next competition will be in the summer of 2022.
Gabby: I'm taking a break right now for an "improvement season." I'll continue on a high-protein, balanced diet and plan to workout 4-5 days per week to continue to stay fit and improve. However, I'm looking forward to putting all of my focus and attention into school, family, and friends. I absolutely plan to compete again, though! My coach and I are already talking about shows for next season, likely around springtime. This experience was so incredibly challenging, fun, and rewarding for me – this is definitely just the beginning of my journey!
If you are interested in making an appointment at Custom Chiropractor with one of our providers, including Dr. Sarah, visit our website at  www.santaclaracustomchiro.com or call our office at (408) 248-8700.